[av_textblock size=" font_color=" color="]
Your Wheelie School

Take your chance to learn the most impressive motorcycle stunt from a Pro. Book your seat on our Wheelie bike and use your own bike, to get that done with step-by-step lessons. You will get these lessons in a safe area and riding your bike- as well as our Wheelie-Bike which has a wheelie bar. This wheelie bar is adjustable and will give you the opportunity to feel your height step- by-step.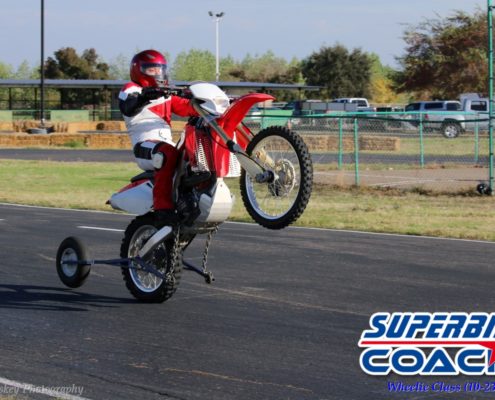 This course is NOT just a show-off thing. We had some licensed racers, they needed to learn to adjust a power wheelie by controlling the throttle, and how to get back in control if it seemed to be out of control. This is pure riding skill practice.
You learn from your Coach how to use your body, and how you have to use the equipment. He gives you all the tools you need to do it the right way. We will take your fears away and give you reachable goals. Under the eyes of the Coach of course, you also have to use your own motorcycle to practice doing wheelies, because finally you make wheelies on your bike.
Early booking strongly suggested, because mostly our wheelie classes are sold out up to two month ahead.
[/av_textblock]
[av_section min_height='75' min_height_px='500px' padding='small' shadow='shadow' bottom_border='no-border-styling' id=" color='main_color' custom_bg=" src='http://wheelie-course.com/wp-content/uploads/2015/09/Coachs-applause.jpg' attachment='13' attachment_size='full' attach='parallax' position='top center' repeat='no-repeat' video=" video_ratio='16:9′ overlay_opacity='0.5′ overlay_color=" overlay_pattern=" overlay_custom_pattern="][/av_section]
[av_textblock size=" font_color=" color="]
Wheelie Rental Bike Available

For people who are having a long travels to come see us- or for riders who don't want to use their own Motorcycles- we have wheelie rental bikes. These bikes are coming with gas and with our highly efficient wheelie-bar. You also have more sitting time btw.
[/av_textblock]
[av_section min_height=" min_height_px='500px' padding='default' shadow='no-shadow' bottom_border='no-border-styling' id=" color='main_color' custom_bg=" src='http://wheelie-course.com/wp-content/uploads/2015/09/IMG_4965-1030×687.jpg' attachment='14' attachment_size='large' attach='parallax' position='top center' repeat='no-repeat' video=" video_ratio='16:9′ overlay_opacity='0.5′ overlay_color=" overlay_pattern=" overlay_custom_pattern="][/av_section]